"Probox2 EX is a very powerfull Android Mini PC with a Amlogic S802-H processor, 2 GB of RAM and 16 GB of eMMC storage. This device is using the same hardware as Minix Neo X8-H, but it comes in a more complete configuration, it has dual band Wi-Fi and hardware DTS and Dolby audio decoding. It also has a gamepad with integrated sound and it claim to be the best Android Mini PC available on the market in the present. Probox2 EX Extreme Media Player costs only 149 dollars with free shipping. It is offered as a gift a nice Remote+ (worths $32)." – by Dan Stefan @ China Gadgets
To read full review article, please go:
http://chinagadgetsreviews.blogspot.ro/2014/08/probox2-ex-extreme-media-player.html
XCTechs Video Review of PROBOX2 EX and Remote+
PROBOX2 EX Video Review by SomeCoolTech. SomeCoolTech is one of the famous Youtubers and Reviewers. They did a deep reviews on benchmark testing, video playback and play game by using Remote+. Also he listed out some excellent features of PROBOX2 EX as belows:
Excellent remote control!
Fast and snappy media player Installs apps quickly.
Antutu score over 30,000!
Good SSD/Flash memory performance
Great video playback performance.
Remote works on other players
Power on/off with remote (a lot of android media players can't do this)
Miracast works well
Zero watts standby power.
Over all very functional media player and mini PC
The video review of PROBOX2 EX by SomeCoolTech:
HDBlog.it just did a deep review on PROBOX2 EX by using Italian. They tried to test on benchmark, video playback and gaming performance.
To read full review, please go:
http://android.hdblog.it/2014/08/28/Probox2-EX-la-Recensione-HDblogit/
For the video review, please watch below:
PROBOX2 EX has been reviewed by Editors of Red Ferret with "Editors' Choice" Award. They recommend PROBOX2 EX.
"But overall this is a great product, and one we can heartily recommend for anyone looking for a solid performer to attach to their TV. It's also one of the first Android TV boxes we've tested which actually managed to run Miracast properly (i.e. streaming content from a smartphone to the TV wirelessly), which is enough to impress us mightily. It's not the cheapest TV box on the market, but it's definitely one which should deliver long hours of entertainment pleasure when it counts. Recommended." - by Nigel of Red Ferret.
To read full review, please go:
http://www.redferret.net/?p=45891
For the video review, please watch below:

CNXSOFT just finished a full and deep review of PROBOX2 EX. They have tested the firmware, including overall performance and stability, video playback, gaming, and most hardware features, as well as Remote+ air mouse with audio and gaming capabilities, which comes with the device.
"During the first 5 hours of test I just found Probox2 EX was amazing: stable, fast, and everything seemed to work. Video playback was also flawless, networking performance outstanding, and the remote/airmouse fun to use…." – by cnxsoft.
To read full review, please read: http://www.cnx-software.com/2014/08/19/probox2-ex-review/
Here is the video review by CNXSOFT:
CNXSOFT Preview & Unboxing of PROBOX2 EX bundle with REMOTE+
We have officially launched our next generation product PROBOX2 EX bundle with Remote+(gaming design remote). CNXSOFT is now doing a deep review and they have taken a unboxing video and preview, please go:
http://www.cnx-software.com/2014/08/15/probox2-ex-android-tv-box-remote-plus-unboxing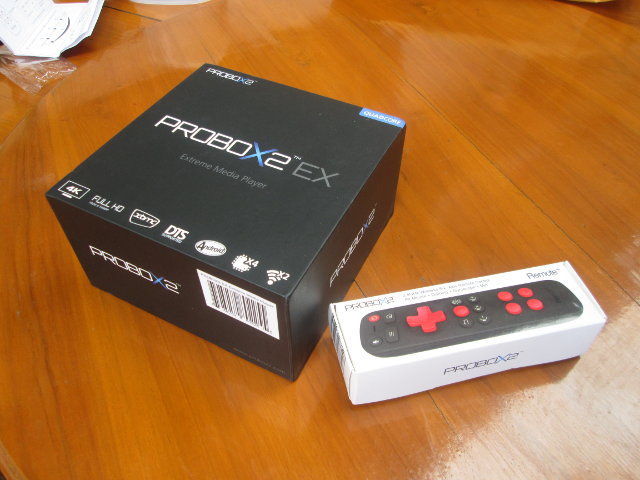 Unboxing Video of PROBOX2 EX bundle with Remote+
The Gadgeteer Review of PROBOX2 ULTIMATE
In February 2013, The Gadgeteer made review of PROBOX2 ULTIMATE with highly impressed of the hardware and performance.
"In actual use, the Probox2 delivers smooth responsiveness in the UI – apps load quickly and run smoothly.....Netflix was able to play HD content smoothly with excellent audio sync, and I was able to use the MX player app to playback local HD and SD content (at least up to 720p) consistently without sync or video issues using software decoding..... " - by John Schettino @ The Gadgeteer
To read full review, please go:
http://the-gadgeteer.com/2013/02/03/probox2-mini-android-pc-review/
Lililuting Review of PROBOX2 ULTIMATE
In Janaury 2013, PROBOX2 ULTIMATE was reviewed by Lilipting.
" it's one of the best Android TV sticks I've tested so far, thanks largely to excellent build quality and strong WiFi reception." - by Brad Linder @ Lilipting
To read the full PROBOX2 ULTIMATE review, please go:
http://liliputing.com/2013/01/probox-2-mini-pc.html
Video Review of PROBOX2 ULTIMATE by Liliputing: